PRICES FOR ABCDUCHAMP : EXHIBITION TO UNDERSTAND MARCEL DUCHAMP

Full price: 6 €

Reduced price: 3 €

Free access for under 26s and job seekers.
Opening hours and days:

Open daily from 10 am to 6 pm

Closed on Tuesdays, January 1st, May 1st, November 1st and 11th and December 25th.
Price: Free access to the permanent collections.
Access:

Bus access: Square Verdrel stop - Jeanne d'Arc street (F2, 8, 11, 13) and Beaux-Arts stop - Lecanuet street (F2, 5, 11, 13, 20)
Metrobus access: SNCF train station or Palais de Justice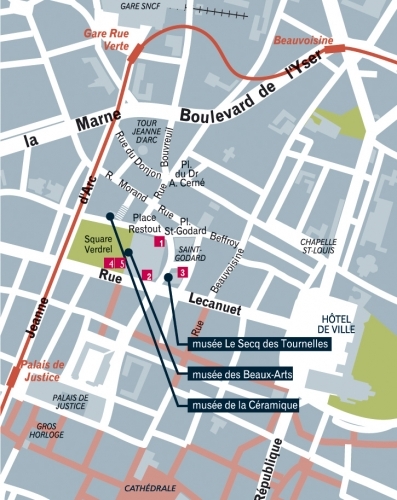 1. Administration of museums, 1 place Restout
2. Disabled access, Auditorium
3. Disabled access, Deshays street
4. Access to the public service
5. Access to the Association "Amis des musées"
Public Service:

Tel. : 02 76 30 39 18 - Fax: 02 32 76 70 90
Mail: publics4@musees-rouen-normandie.fr

Executive management :

Virginie THÉNOZ / Tel. : 02 76 30 39 06

Library of the Museum of Fine Arts:
Tel. : 02 35 15 26 98